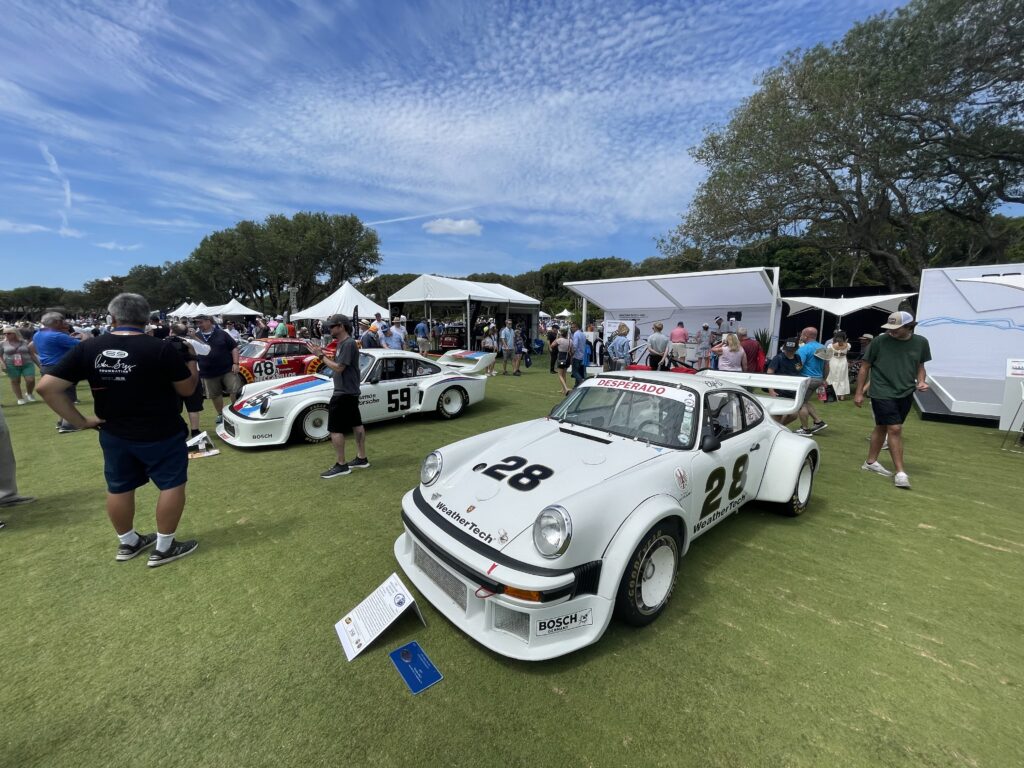 This year's Amelia Island Concours was an absolute success, it was definitely an amazing effort by Bill Warner and the team who put it on because it is really the first major car event post Covid and it was no small feat to be certain. I was super glad to be a part of it and thankful to the McPherson College of Automotive Restoration for allowing me to come along on the trip. One of the features was a class of 935s and included in that class was this 934.5 belonging to David MacNeil.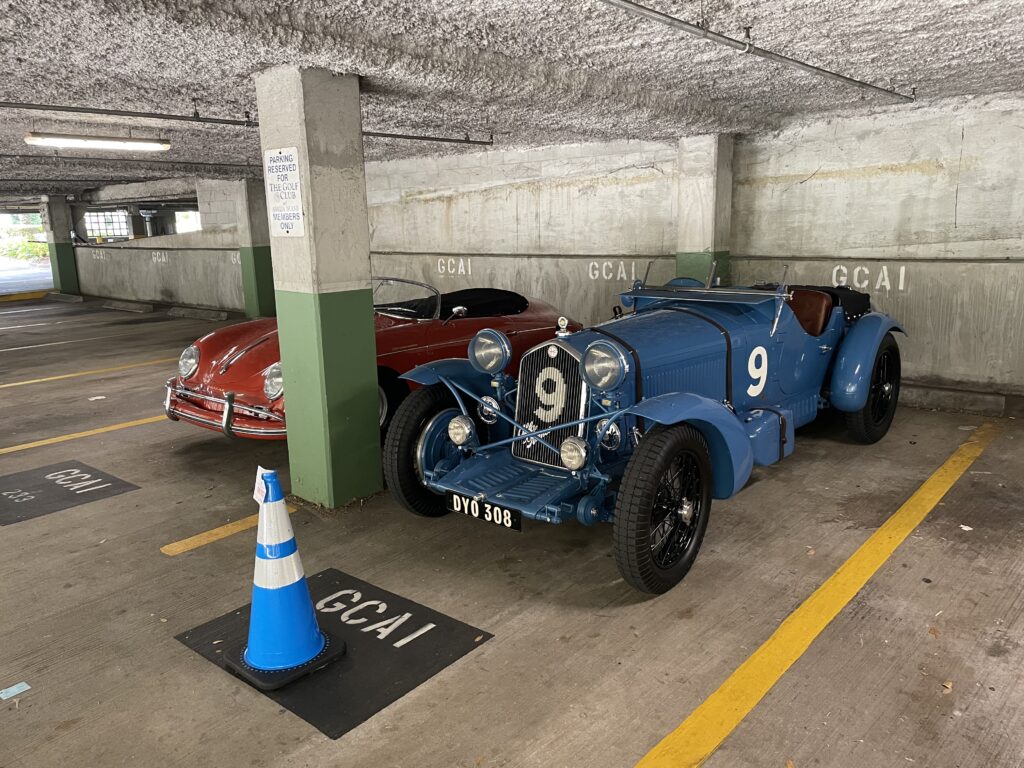 In the days prior to the Concours itself, there are forums, auctions, and other smaller shows occurring so it is definitely worth coming a couple days before Sunday for those events. Incredible things can be seen around the Ritz and in this case in the parking garage with an alpha 6C and a 56 speedster.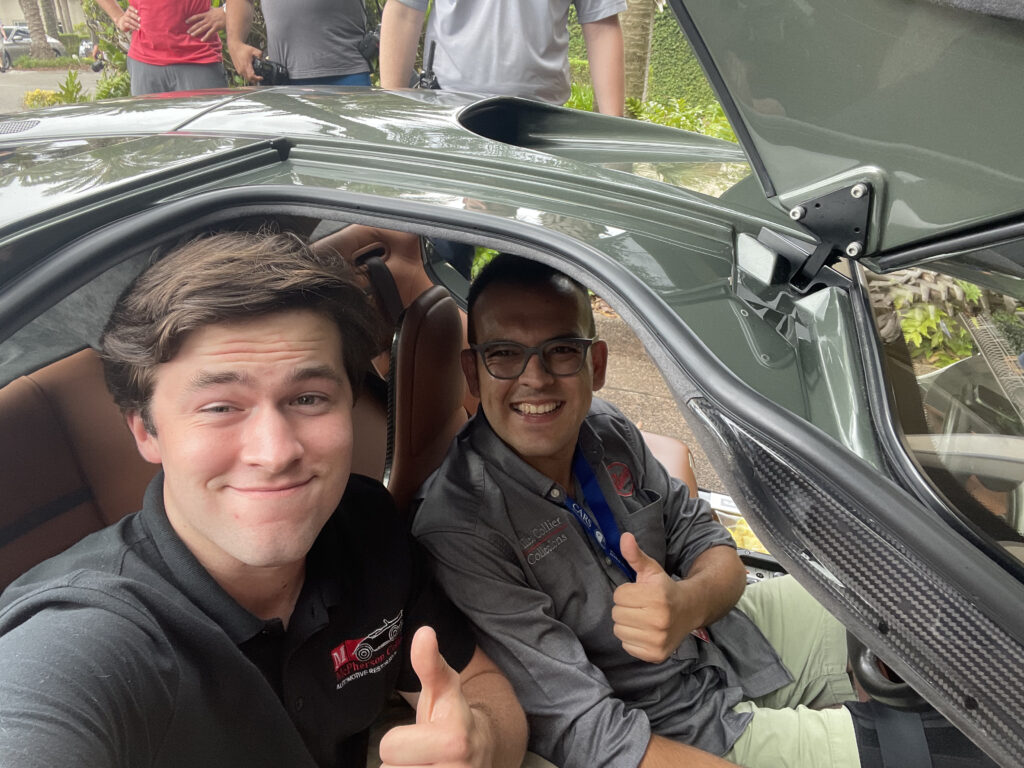 Something which made this Amelia Island particularly stand out from others was it was also the start of my summer internship with Revs Institute in Naples Florida. They brought seven cars to the event and I was able to work with the team that was on site there and had a fantastic time meeting them prior to starting at the museum. Here I am with Pedro Vela, a member of the Revs team who is super active in caring for their cars at events as well as restoration and preservation work on the museums Automobiles. Here we are in the McLaren F1 022 which was shown at the cars and coffee and the concour. It was incredible to experience a car which has played such a large role in automotive history and one which is so different from anything else offered today as far as supercars.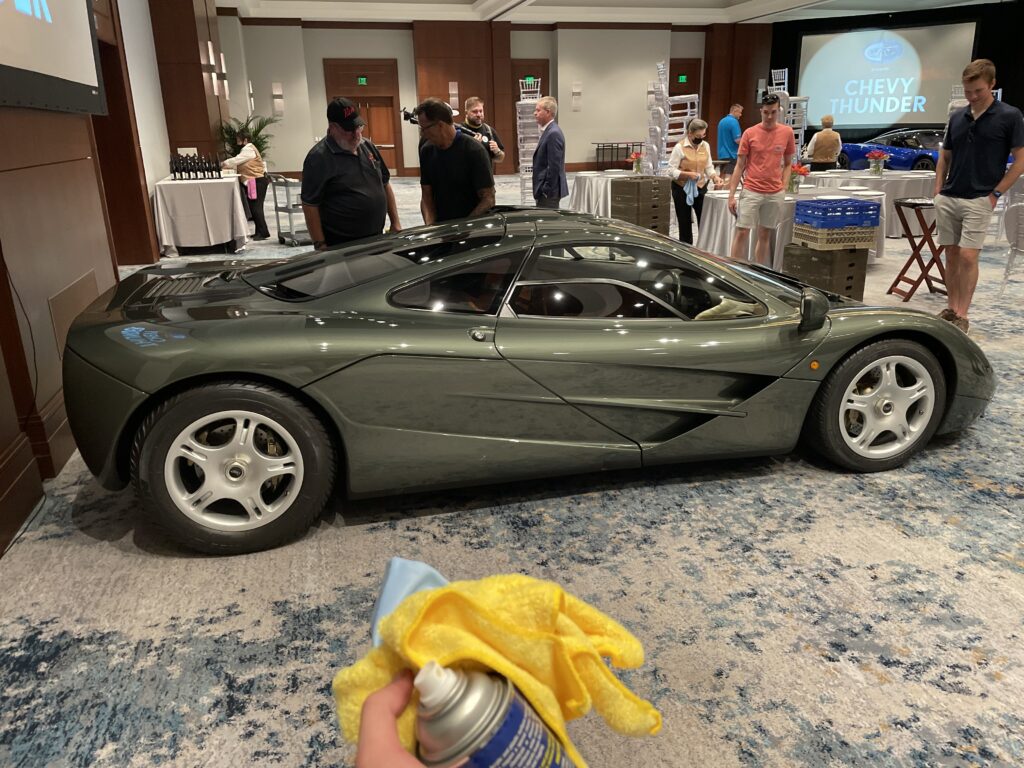 022 was featured at the McLaren dinner Friday night and so we were tasked with putting it in the ballroom which was quite an interesting process to be a part of.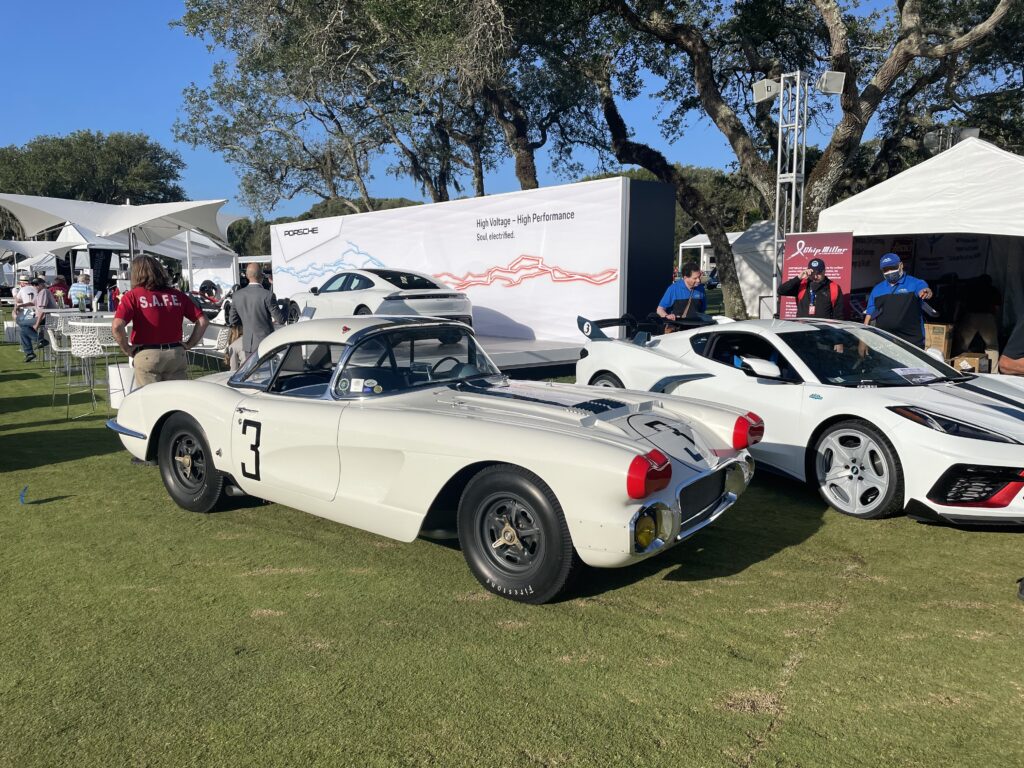 Here is a really special Corvette both to enthusiasts of Corvette and enthusiasts of sports car racing due to its significant race history at the 1960 24 hrs. of Le Mans under Briggs Cunningham. It is owned by Lance Miller, who, with his father Chip put on Corvettes at Carlisle and have been collecting rare Corvettes for many years. Unfortunately his father passed away a few years ago but his legacy is carried on through Lance showing car .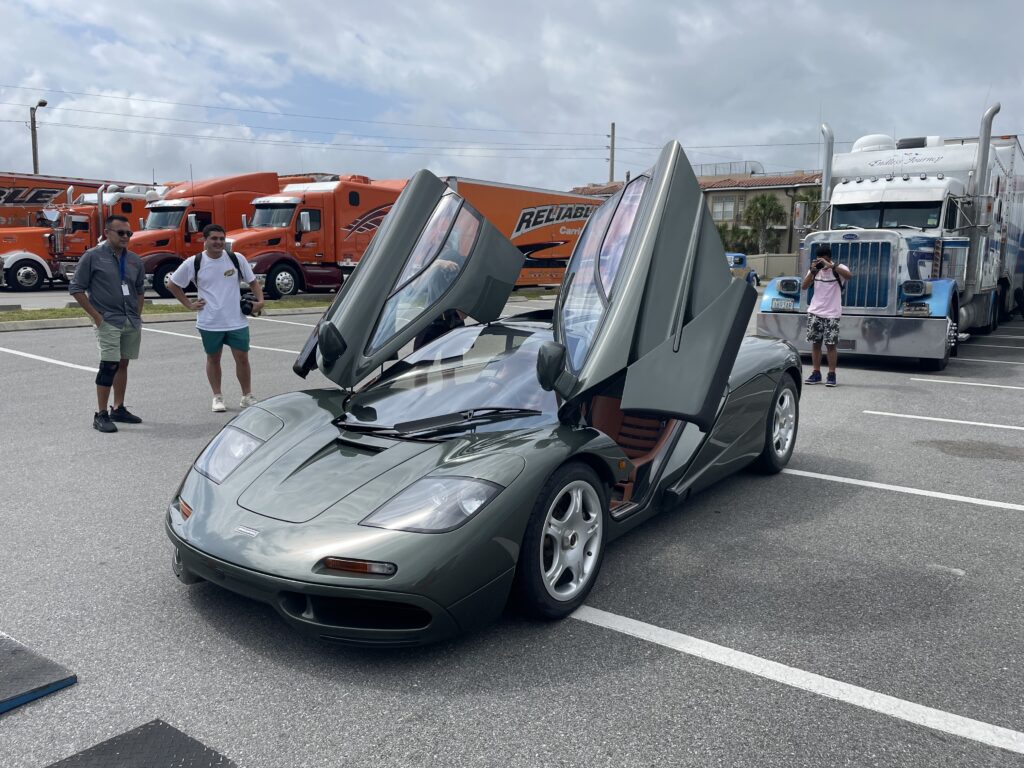 Prior to experiencing chassis 022 I had been aware of the McLaren F1 and had many friends that saw it as their dream car. I knew they were special cars but really learning about one and experiencing it in person definitely shifted my understanding and appreciation for the engineering and design that went into them.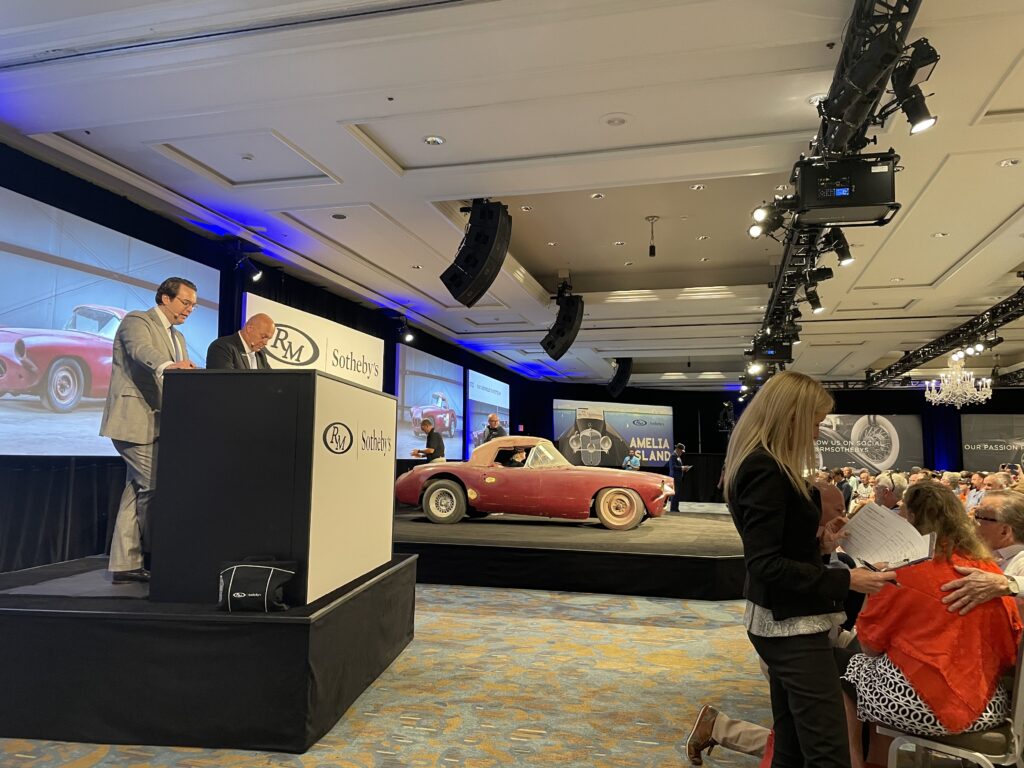 One thing I was really looking forward to seeing in person was the sale of this 1960 Corvette. It is related to the above number three car in that this is the number one car which Briggs Cunningham campaigned at Le Mans, and the car which he piloted. Like the number three car it was converted back to a road car by Bill Frick after the race, though unlike the number three car, it was then heavily modified over the years. It no longer retains its engine or transmission but the important thing which it retains is it's chassis tag as the bodywork and interior are so altered that the next owner will be affectively restoring the car around that tag. This car is also particularly interesting because it was discovered by Lance Miller and was initially bought by Kevin McKay the authority on Corvettes, who had discovered number three for Chip Miller. So they had somewhat of a promise that if they found the other car Kevin would receive it. The unfortunate thing is that legal battles ensued over ownership of a third-party someone who claimed their father had owned the car in the 70s and that it was stolen out of his driveway. The interesting thing about that is that all those legal battles and controversy were covered in articles in Sports Car Market and so it was very publicly known in the vintage car world. Despite this none of that was mentioned in the auction catalog or any of the press releases before the auction. Luckily, rumor is the new owner is the grandson of Briggs Cunningham and the car will be correctly restored and the Cunningham family will have an heirloom returned to them after so many years. It sold for $685,000 which was well under the one to $1.5 million estimate, so I am happy that the buyer was able to get a deal on the car but I feel bad for the two people who owned it prior to the auction that fought over it in court for many years and I'm sure spent far greater than the sale price of the car trying to claim ownership.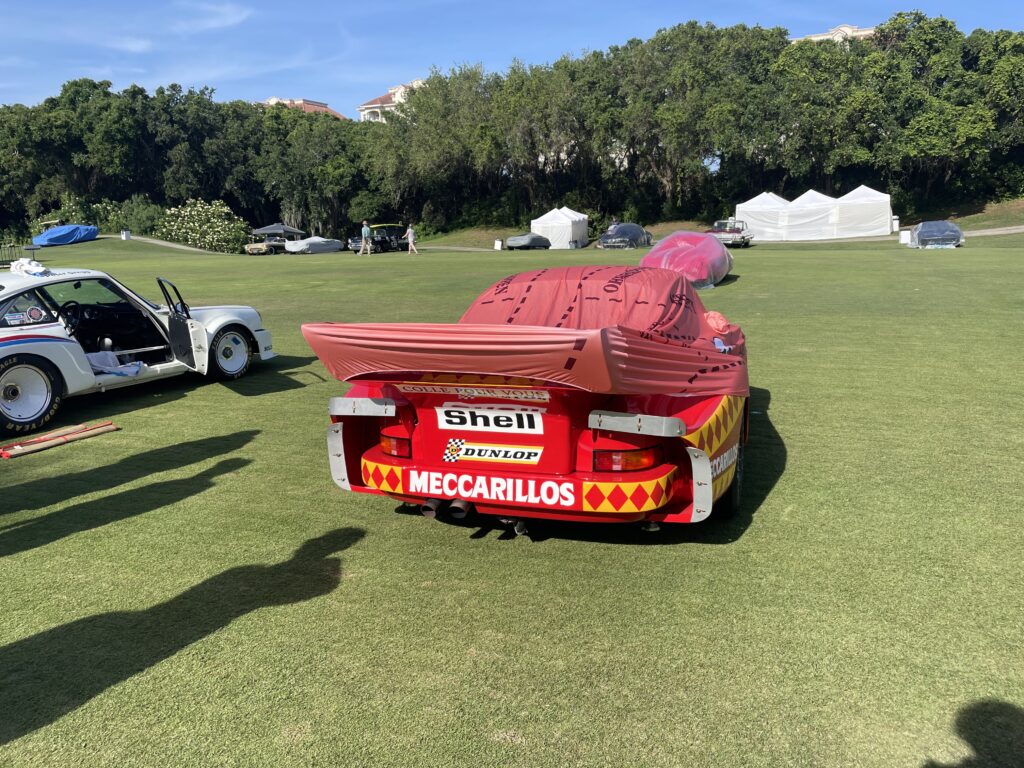 This is a great 935 which was restored a couple of years ago by Kevin Jeanette and his team at Gunnar Racing and debuted at the last Rennsport Reunion. It presents fantastically as all their restorations do and I loved the touch of the pink pig livery car cover.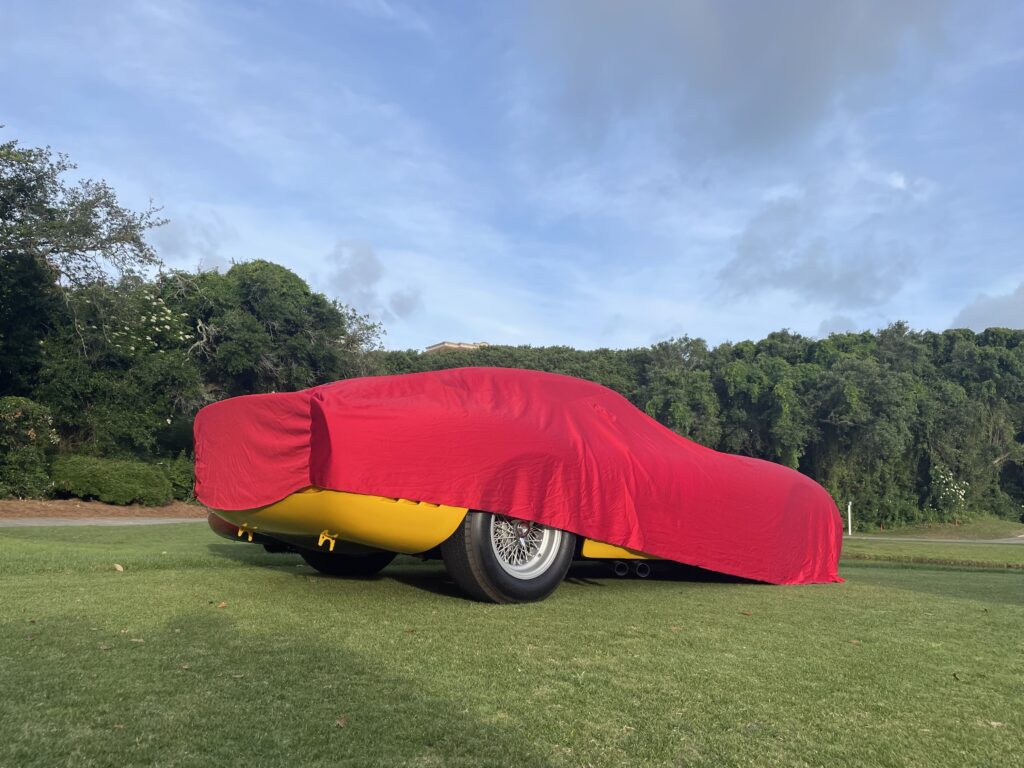 The is quite an interesting car, it's a Ferrari 275Gtb competition speciale which was raced by the Scuderia Ferrari team at the 24 hours of  Le Mans in 1965 and then went through a couple of private owners after that, the last of which being Preston hen who owns the swap shop in Florida. This car is been on display there as have many others for many years. He recently passed away but his wife is still showing the cars which is great to see, and this car is also maintained by Gunnar Racing.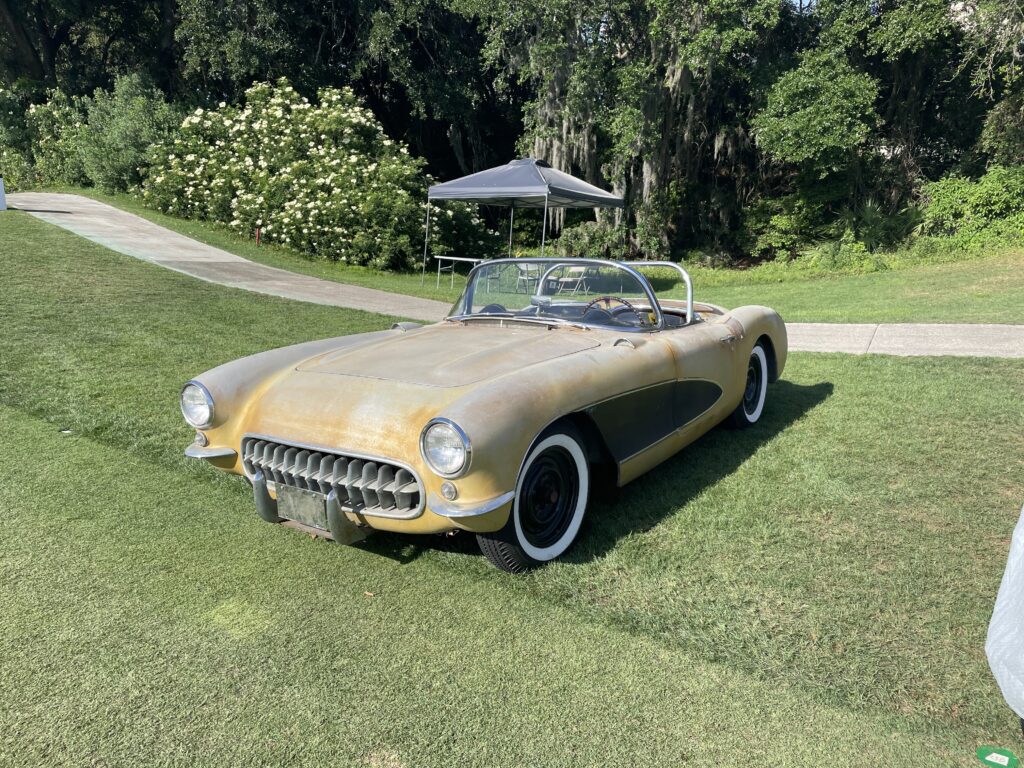 On the surface this Corvette may look like stock stock 56 with a cool preserved 60s custom paint job, but in addition to that it is quite a special factory experimental car to develop the Rochester fuel injection for the street cars. It raced as well in the Bahamas speed week and the factory applied white with blue stripes is below the gold paint so the owner is having the gold paint effectively surgically removed to expose the original liverie.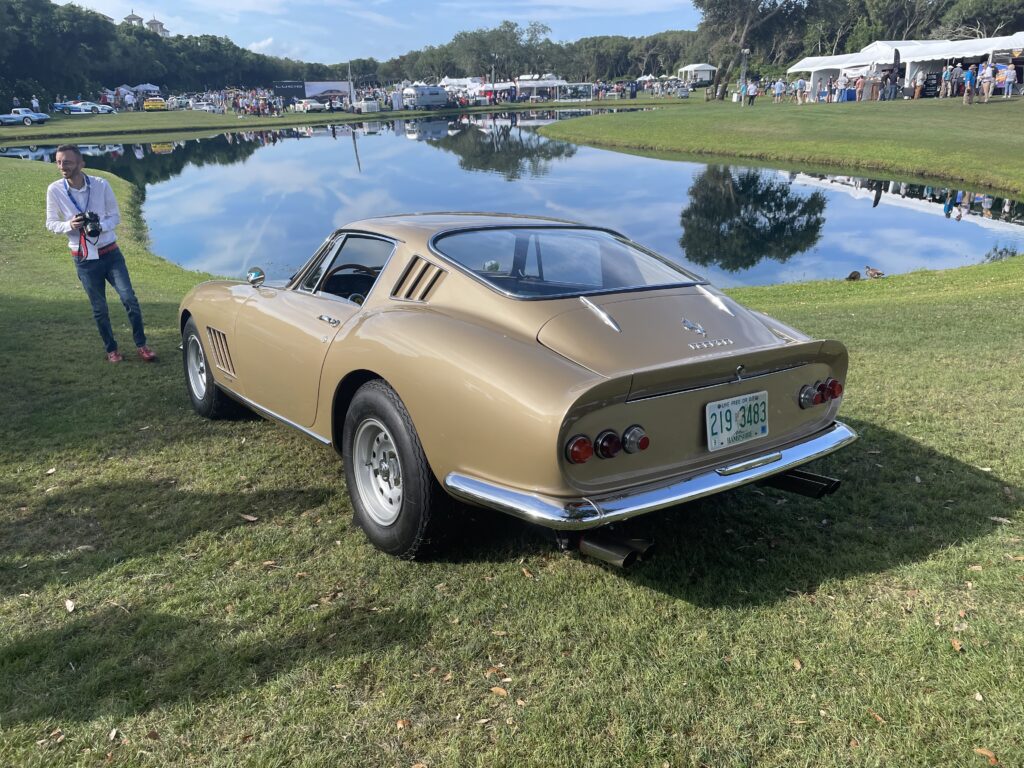 Speaking of special 275Gtbs here is a four cam model with many unique features optioned through the factory, and the coach work of course in this case custom being carried out by Pinnin Farina. This car is cared for by Paul Russell and Company and is presented in largely original condition with its perfectly worn green leather interior just begging for its owner to hop in and take it down an interesting road, also worth mentioning is the color combination overall of this champagne color with green which I've certainly never seen on a Ferrari let alone any sports car so it is welcoming to see, as unique colors are just a bit more interesting.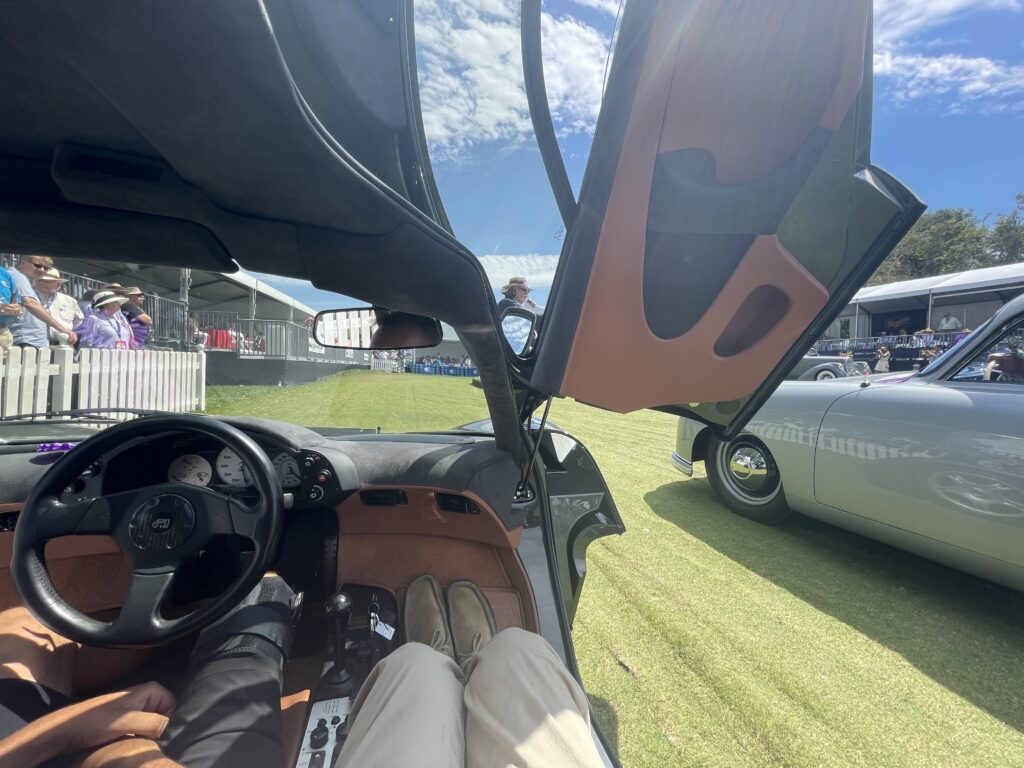 I achieved a dream of mine during Amelia Island with help from McPherson College as well as Revs Institute which was being in a car at a Concours as it took the awards stand, and in a McLaren F1 no less it was a surreal experience. In this picture we are flanked on the right by Cam Ingram and his client in a split window Pre A 356 with tons of unique features to the 1952 model year. Cam operates Road scholars in Durham, North Carolina, one the finest Porsche Restoration facilities in the world.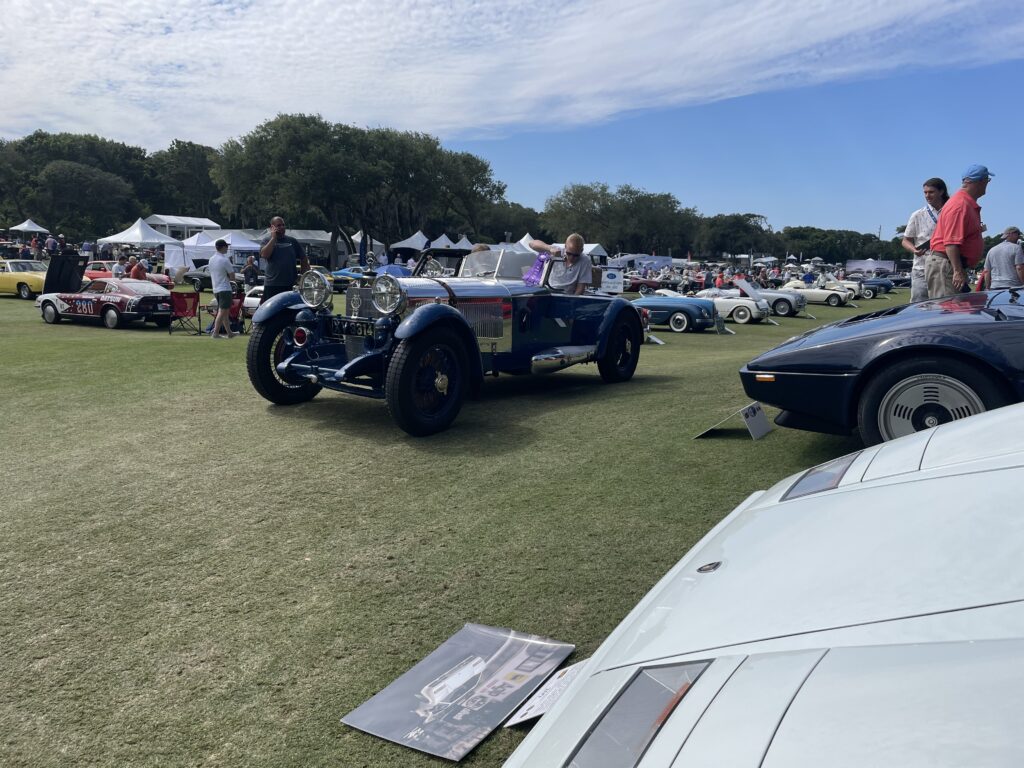 Rolling on to the Concours field is the 1929 Mercedes-Benz S Barker with a stunning body which is evocative of prewar boats and planes. This particular car achieved best of show at the 2017 Pebble Beach concour and for good reason it is elegant sporty and restored to perfection with respect to being correctly done.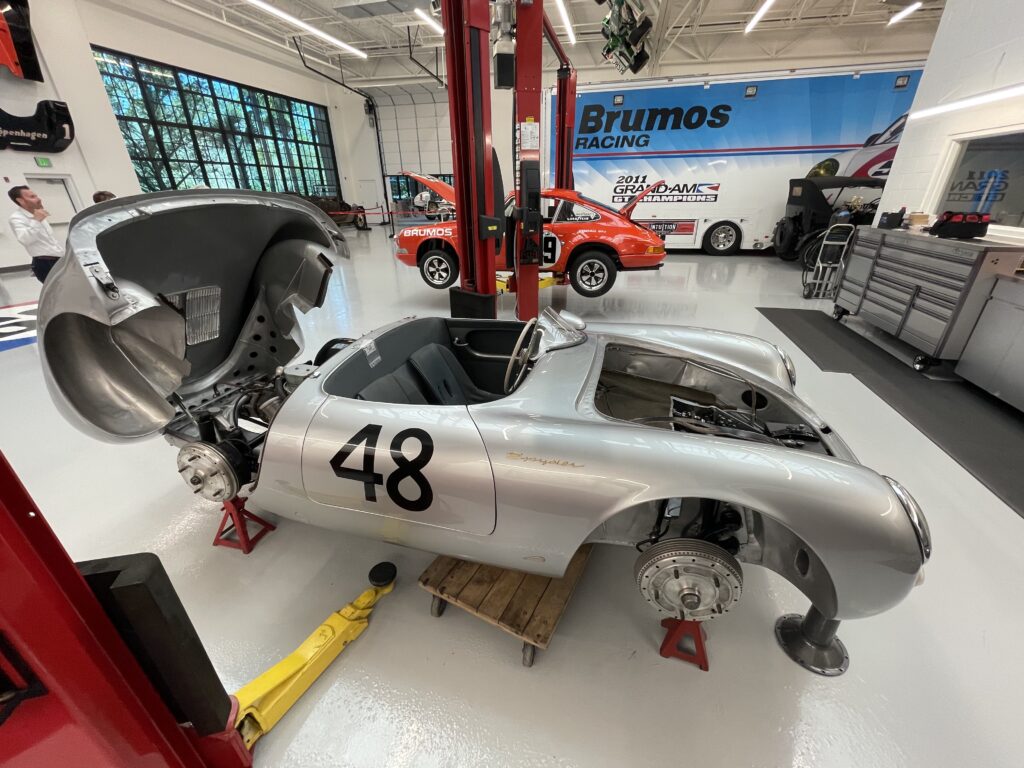 On my way out of town I was able to visit Dan Davis at The Brumos Collection. Brumos Porsche has played such a large role in the history of Porsche and particularly in their competition within the United States. The facility is modeled after a Ford plant it is a beautiful brick building with large windows, but don't be fooled by it's vintage looking exterior the interior is completely state of the art and the cars are in an ideal climate. This is really the ultimate home for any car collection but especially for a group of Porsches which are tied to such a long legacy of racing in America it is an example to be set in the execution of a publicly shown collection or museum.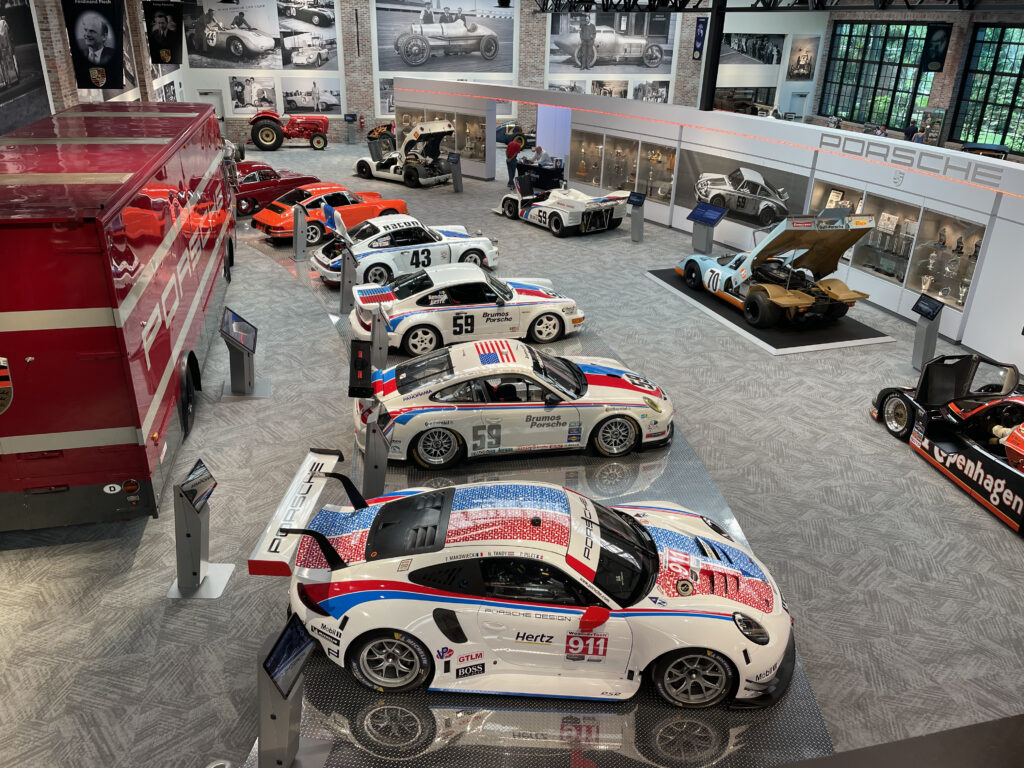 This was a fantastic event and it makes me that much more excited for the Monterey Car Week and The Pebble Beach Concours because of how seamlessly this event was put together despite the year which COVID-19 has occupied. Below I have linked my video coverage from the event. I am super interested in vintage European sports cars and vintage competition and racing cars and I'm always looking to buy and collect them. If you or someone you know has one I would love to discuss it with you. Shoot me an email anytime at cameronsluther@gmail.com